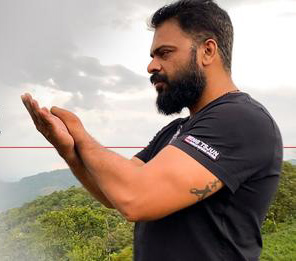 About Me:
Achievement:

Authorized BDS Wing Tsjun Instructor
National Head BDS-Kuwait & India.
BDS Wing Tsjun Instructor
Wing Chun instructor
Open hand system in Chinese Kung Fu
Weapons System in Chinese Kung Fu
Movie Film Actor - "Kung-fu Master"

Address:

Residence

Ettumanoor, Kottayam District
Kerala, India

Contact:

Phone: +91 7736369588
Email: ......................
Sifu Jiji Scaria
Authorized BDS Wing Tsjun Instructor | National Head BDS-Kuwait & India
Jiji Scaria was born at Kottayam, Kerala on January 23, 1980 in India. He started his martial arts career by learning the Indian Martial art-'CVN Kalaripayattu' at the age of nine. After four years he got acquainted with Chinese kung fu. At the age of 15, he received the Kung fu 'Black Sash' from a Chinese Kung fu school in South India. After graduating high school, he trained himself in other martial arts like Judo & Karate. In 1993, he started training Wing Chun with the 'Global Traditional Wing Chun Kung Fu Association'. His dedication to Wing Chun Kung Fu was recognized early in his Martial career and subsequently was accepted as a "closed door" disciple by his masters. He is fluent in all aspects of both the open hand system and weapons of Chinese Kung Fu.
Sifu Jiji Scaria is recognized not only in India and Kuwait but also internationally having strong ties to the Australian Martial Arts Association as their GTWCKFA representative (1996) as well as being a member of the Australian Kung Fu Wu Shu Federation. In 2003, under the guidance of Grand Master William Cheung, he gained Wing Chun instructor status.
He joined the Boehlig Defense System (BDS) and Wing Tsjun International – Germany under the able guidance of his Grand Master Dai Sifu Thommy Luke. He is an authorized BDS Wing Tsjun instructor and the National Head of Boehlig Defense System in India and Kuwait. He has also conducted numerous workshops and seminars on Wing Tsjun (Wing Chun). 
Jiji Scaria has also worked in the Malayalam film industry. He has made his debut in the Malayalam movie 'The Kung fu Master' in the title role as 'Rishiram'. It is a martial arts film written and directed by Abrid Shine.
He believes that success very rarely happens overnight. It takes years of hard work and perseverance to make it happen.